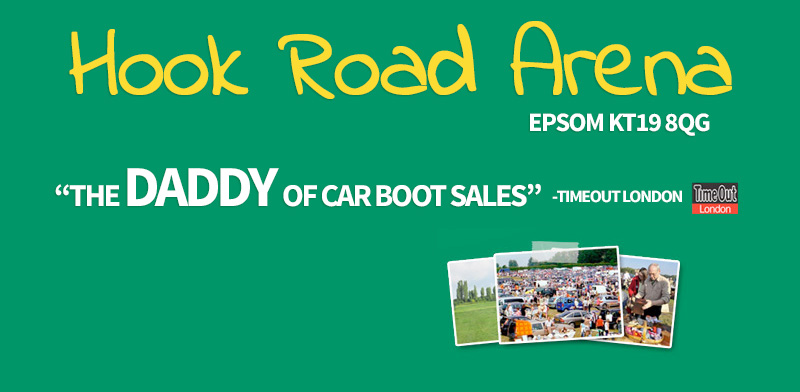 SPECIAL CHRISTMAS BONUS: PARKING THIS SUNDAY 10TH DECEMBER AND NEXT SUNDAY 17TH DECEMBER FREE. BUYER'S ENTRY FOR BOTH SUNDAYS JUST £1- NO £2 CHARGE BEFORE 9 am. THE CAR PARK IS LOCKED AT 1230 SO IS NOT OPEN FOR SHOPPING IN EPSOM.


OUR WINTER INDOOR CAR BOOT SALES ARE EVERY SUNDAY INSIDE EPSOM'S HOOK ROAD MULTI STOREY CAR PARK KT19 8TH. THEY WILL CONTINUE EVERY SUNDAY UNTIL FURTHER NOTICE. THIS IS A "COME EARLY EVENT", NORMALLY FINISHED AROUND 1230, WHEN THE CAR PARK IS LOCKED, SO DO NOT LEAVE CARS HERE AND GO ELSEWHERE.

SELLERS: CARS ONLY. ADMITTED FROM 0630. PITCH FEE £15.

THERE IS LIMITED PARKING FOR BUYERS INSIDE THE MULTI STOREY CAR PARK
OTHERWISE, THERE IS FREE PARKING ON STREETS ON SUNDAYS CLOSE TO THE MULTI STOREY CAR PARK. PLEASE DO NOT BLOCK ENTRANCES.

OUR CAR BOOT SALES START AGAIN OUTSIDE AT HOOK ROAD ARENA IN MARCH 2024. CHECK HERE FOR START DATE.

INFORMATION FOR HOOK ROAD ARENA ONLY:



Buyers......please bring coins!!! We can't change £10 and £20 notes!!

ALL VEHICLES ENTERING THE SELLERS' FIELD MUST PAY THE PITCH FEE. FOR EVERY CAR THAT IS £15.


SELLERS - PLEASE DO NOT ARRIVE BEFORE 06.00. IT IS TOO DARK TO PARK YOU, AND YOU WILL HAVE TO WAIT!! FOR THE AVOIDANCE OF ANY DOUBT FOR OUR PRICES BELOW, A SMALL VAN IS THE SIZE OF A SALOON CAR. ANYTHING ABOVE THAT IN SIZE PAYS THE VAN CHARGE.

YOU MUST TAKE ALL UNSOLD ITEMS AWAY WITH YOU. NO RUBBISH CAN BE LEFT IN THE PARK, IT IS NOT A TIP!!

Always check here before setting off, or call 07788 132977 for a recorded message.

THIS IS A FRIENDLY, FUN EVENT, BUT THERE HAS TO BE A FEW RULES TO KEEP IT THAT WAY. IT'S JUST ABOUT RESPECTING OTHERS REALLY.
PARKING AND DRIVING: IS AT YOUR OWN RISK. OUR STAFF WILL TRY TO HELP YOU, PLEASE DO NOT IGNORE THEM.

SELLERS: Please bring the correct pitch fee for collection on arrival. Our staff cannot be expected to return to stalls later. You are advised to bring some coins for change for buyers.

BUYERS: PLEASE DO NOT ARRIVE UNTIL AFTER 6.30. ENTRY IS AT 7.00. YOU WILL HAVE TO QUEUE WHILE THE SELLERS SET UP THEIR STALLS. PLEASE BRING THE CORRECT ENTRANCE FEE IN COINS, NOT NOTES.

WHAT YOU CANNOT SELL: food and both hot and cold drinks. This condition is enforced by stewards.

NO COUNTERFEIT GOODS (COPIES), KNIVES, PELLET GUNS, ALCOHOL , ANIMALS AND BIRDS MAY BE SOLD. TRADING STANDARDS STAFF INSPECT THE CAR BOOT SALE.

DOGS: must be kept on a lead and dog litter removed.

PARKING: Please respect our neighbours and private property. There must be NO parking in residents' parking areas and across entrances to properties.

We look forward to seeing you at Hook Road Arena Car Boot Sales!

Follow us on Facebook & Instagram @HookCarbootSale
Browse and buy at up to 900 stalls.

Hook yourself a bargain!

Sell to as many as 6000 buyers. Make yourself some cash!

Gigantic Car Parks!

Food & drink, toilets and fun for the little ones!
Hook Road Arena, Epsom.
Junction Hook Road &
Chessington Road
KT19 8QG

CALL: 07788132977
EMAIL: [email protected]
HOOK ROAD ARENA INFORMATION ONLY:

SELLERS: ALL VEHICLES ENTERING THE SELLERS' FEE MUST PAY THE PITCH FEE.
PITCH FEES 2023:
Cars: £15
Small vans (car size): £15
Vans: £20
Large vans: £30 (long wheelbase, Lutons, motorhomes, horse boxes)
Trailers: +£5

BUYERS:
Gates open at 7 am.
Entry before 8.30: £2
After 8.30 am: £1
No need to book, just pitch up on the day at around 7am!

We Look Forward to Seeing You at the Hook Road Arena Car Boot Sales!